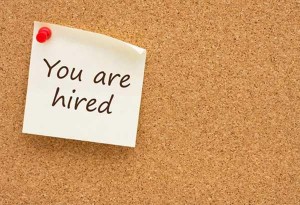 The hiring process is a bit like matchmaking. You put it out in the universe what you are looking for and hope the one and only will find you.
A lot of "one-and-only" will reply to your job posting and you have the arduous job of filtering through the tsunami of resumes to find the right fit. Considering the cost of turnover and how it thumps hard on a company's bottom line with issues like lost production, training costs, and morale for those who are left to pick up the slack, the stakes are high if you don't hire the right person and have to end the relationship quickly.
How do you know the candidate you make an offer to is who they say they are, and know what they have professed being an expert at?
Following are 3 tips that will help you hire smart:
Prepare your arsenal of interview tools.
Job description, interview questions, (specific to your business/position), and employment application. These tools help qualify and assess if the candidate understands your business, purpose, technology, and product. Well beyond a resume, the employment application defines the candidate's gap in work history and salary expectation, which you can explore in the interview. Use behavioral-based questions. For example, if you are hiring wait staff for your restaurant, you can ask, "Define what hospitality is and what it means to you". If the candidate can't answer correctly, it's time to cut the interview short.
Use multiple interviewers. I know it's tempting to offer a position on the spot to a seemingly amazing candidate, but make sure you include one or more qualified interviewers on your team to get other perspectives. This is critical in making a smart hiring decision.
Don't skip reference checks. Employers are cautioned to only provide dates of employment, position held, and rehire status in a reference check. That said, you can often speak with the candidate's previous manager and describe the position which you are considering for their ex-employee, and ask if they think it is a good match. This often leads to further discussion that may be helpful in your hiring decision. Google the candidate's name and see what surfaces. You are not permitted to ask a candidate for access to their social media such as Facebook, but you can often find useful information about the candidate on Twitter, LinkedIn, YouTube, Blogs, or Pinterest. I once Googled the name of a final candidate and the first search result was a booking picture with a supporting article on the candidate's conviction of a criminal act, which by the way was not noted on the employment application. I recommend you wait until after you've met a candidate face to face, before reviewing social media, as you will be less likely to be accused of making a hiring decision based on protected characteristics found on a social network profile. Consider using a third party background check company to round out your search process.
Lastly, trust your instinct. You know that feeling, when the hair stands up on the back of your neck. It's your gut communicating something is just not right. Even if everything appears amazing on the resume and the candidate is a superb interviewer, be careful to act on your feelings and be thorough with your research on the candidate.
Hire in haste, repent in leisure…take the time up front to get it right, so you don't have to spend time thinking about what went wrong after the fact if you made a mistake in the hiring process.
Jan M. Smith is the Founder and President of Inland Management Group, a Human Resource Consultancy located in Temecula, specializing in the Hospitality and Service industry. You can contact Jan at (951) 302-6483, www.inlandmgtgroup.com, email at [email protected].