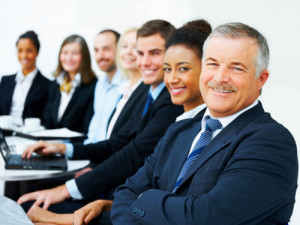 Years ago, an estimated 1 billion people watched the Michael Jackson memorial on national television, and countless others via the Internet. His brother Jermaine sang a compelling version of the well-know Charlie Chaplin song, "Smile," which clearly, through the song's title and lyrics, portrays a message of the absolute and defined power of a smile.
The business application of a smile relates to front line employees and their potential impact with your customer. While most hospitality managers know the importance of first impressions, unfortunately, not all front line employees seriously consider this impact. Yet the truth is the general consumer prefers to do business with friendly, open, accommodating, welcoming, and most importantly, smiling employees.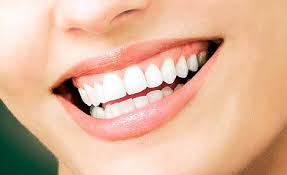 Working at The Walt Disney Company for a decade laid the groundwork for my view on service. Establishing the relationship between a customer and employee, who understands their "on-stage" service role, is generally very successful. Disney employees realize very quickly that on any given workday, regardless of how they feel personally, they must put aside their non-work related issues and slip into "character" before representing the company. Exceptional customer service begins with an employee-guest engagement, and the best way to start this process is with a smile. I am not saying it's easy to smile when you don't feel like it…it is necessary, even critical to the successful outcome for a positive first impression of your company. A smile can be seen as an invitation or a barrier. Greeted with a smile, you are being welcomed; greeted with a grin or scowl; you are being held at an arm's distance.
What does your front line employee look like? Have you ever observed from the sidelines what your customer initially encounters as they come through your door? If you haven't had the chance to do this, it's a good time to think about this type of observation. The economy today dictates exceptional customer service in order to stay competitive and keep your customers loyal and engaged. If your front line employees do not connect to your customer (and this generally starts with a lack of greeting the customer with a smile), the potential sale may only be a one-time deal, or worse, no deal at all.
During the interview process, make sure to carefully observe the candidate. Take special note to whether they are smiling. If they are not doing this during the interview, chances are if hired, they will not smile when a customer walks through your company's door.
Hospitality managers should insist that all front line employees "wear" a smile. Remember, this simple gesture invites a relationship with the customer. I recently noticed a small laminated card attached to the outside of a cash register at a local store. It was perfectly situated for both the employee and customer to see.
It read: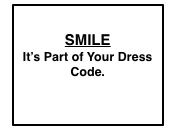 The front line employee often sends non-verbal cues to the customer regarding their personal feelings, and hopefully it is something that reflects enthusiasm and appreciation that the customer has stepped through the door. The employee's facial and body language should show excitement for the service, product or value your company has to offer. How can you expect a customer to shell out their hard earned (and closely kept) dollars if they are not connected through your front line service worker?
Consider observing your front line employees in an anonymous way; perhaps even contemplate using a shopping service to do this for you. Be sure to:
Carefully research the background and references of the shopping service.
Ask to see sample reports and client/reference list.
Speak with like-industry references and ask them what they found useful and not useful with the shopping service. Were they happy and confident with the service?
Ensure the service understands your business processes well enough to critique.
Set the criteria to be observed and ensure the service watches for the initial first encounter they have with the employee…were they smiling?
I can see why Michael Jackson's favorite song was "Smile." The lyrics, "Smile though your heart is aching, smile even though it's breaking…. Light up your face with gladness, Hide every trace of sadness…" are encouraging and necessary for all front line employees. Remember, front line employees are continually "on-stage," providing the most exceptional service necessary to retain your customers.
Jan M. Smith is the Founder and President of Inland Management Group, a Human Resource Consultancy located in Temecula, specializing in the Hospitality and Service industry. You can contact Jan at (951) 302-6483, www.inlandmgtgroup.com, email at [email protected].